Doncaster Rovers - Belle Vue

My visit to Belle Vue came about when Gillingham were playing away at Doncaster back in January 2016. In the picture above is what I took when I was there, as you can see right ahead of you, that used to be the old terracing stand at Belle Vue. It was great to see, although it had practically been demolished then, it was nice to see it wasn't all completely demolished. I never went to Belle Vue for a game, although luckily my Dad did go to Belle Vue, all he's really told me about it before is it was a very old ground but that's it haha. Once again it was another train journey for me to Belle Vue, although from Doncaster station, it took me some time to get there, around a 30 minute walk from the station but wasn't too bad. Just pleasing it wasn't chucking it down with rain haha!
Belle Vue was officially open back in August 1922, and the first ever opponents at Belle Vue were Gainsborough Trinity. By then, it was Doncaster's last ever season as a Non League Club in the Midland League. Since then the club has risen up the leagues, and they were back in the Football League in 2003 after an absence of 5 years, when they won the 2003 Conference Play Off Final at Stoke's Britannia Stadium with a 3-2 win after extra time. After that they beat Manchester City at Belle Vue in the Carling Cup and also Aston Villa to reach the Quarter Finals. But then only to be knocked out by Arsenal who also went on to win on penalties against Donny. By the end of 2006, the club left Belle Vue and their first game at the Keepmoat was against Huddersfield on New Year's Day of 2007.

Doncaster Racecourse which is by Belle Vue.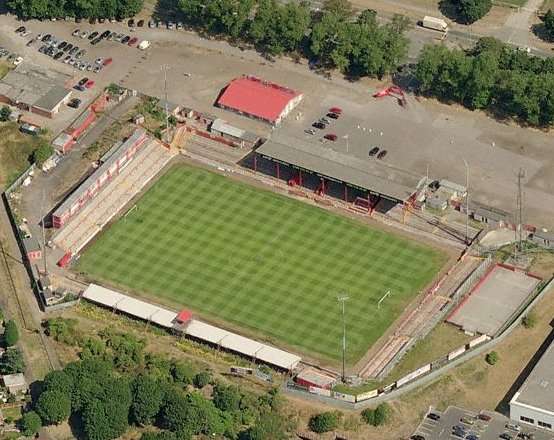 All of these pics above aren't mine, so copyright to those that took them. Some really sad pictures there to be honest.






A famous night at Belle Vue when Doncaster beat Aston Villa 3-0 to reach the Quarter Finals of the Carling Cup.






Doncaster just getting knocked out by Arsenal in the Carling Cup.